Größere Tegernsee-Karte
Morgen
Wetter: Regen
Tag: 31°C
Nacht: 20°C
Übermorgen
Wetter: Regen
Tag: 33°C
Nacht: 20°C
08.07.2015
Wetter: Regen
Tag: 25°C
Nacht: 18°C
Weitere Wetter-Aussichten, Wassertemperatur, ...
Events
Events in the near surrounding of the lake Tegernsee.
Real-Estates
Living near the lake...
Vacations at the Tegernsee
Additional informations for your vacations in the area of the lake Tegernsee or the region Miesbach. You'll find webcams, informations about restaurants, bike-tours and much more...
The lake Tegernsee
The lake Tegernsee has a surface area of approximately 9 square kilometres and is known a one of the cleanest lakes in Bavaria. The lake is located in the south of Munich, the Bavarian capital at an elevation of 726 metres. The lake Tegernsee has a maximum depth of 73 metres, a lenght of 6,5 kilometers and a maximum width of 1,4 kilometers. The lake developed as a result of the melting of the ice age glaciers.
Northern Shore of the lake Tegernsee.


With the train (stations at Gmund am Tegernsee and the city Tegernsee) or the car (highway A8 and normal streets) you need a little less than an hour from the center of Munich to the lake Tegernsee.
Bay at Rottach-Egern at the Southern Shore.


The lake Tegernsee has to bigger Bays and one island. The river Mangfall leaves the lake in the northern end of the Tegernsee at Gmund.Like many other lakes in Bavaria, the lake Tegernsee is a popular location for watersports and leisure time.
View to the South


We are sorry for not having translated all of the extensive content of our BAYregio-Tegernsee website. We only offer you this site in English but hope that by explaining the most important things you will not have any problems with the other sites in German language:
On the following two websites, you could look for your accommodation. Please select the accomodation there by clicking on the icon with the letter and write an inquiry. Most of the hosts do have at least a basic knowledge of the English language.
Sailing at the Tegernsee.


On the following websites, we offer much more information and impressions with many pictures of the lake Tegernsee.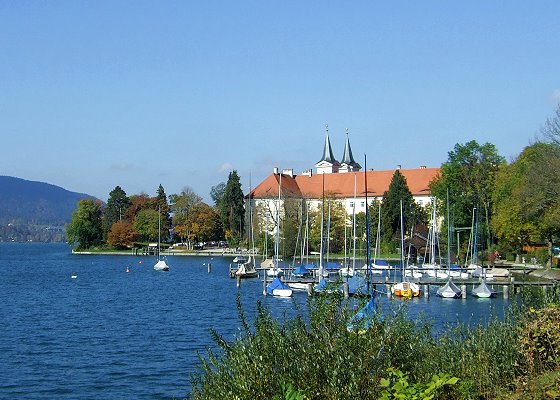 The city of Tegernsee.


View to Rottach-Egern.


Hotels, Appartements
You will find a list of hotels and appartemtents. When you click on the names, small websites open with additional informations and a contact formular. Most of the contact persons speak English, so you are free to write them in English.